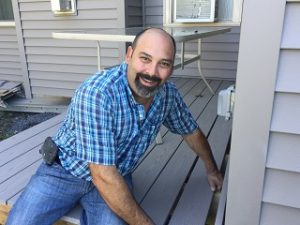 HT Construction is a family business lead by Sal Arcuri, who has been building homes, additions, and remodeling for over 30 years.  Sal has known he was going to be in the construction business since he was in grade school and has the 3rd-grade report to prove that he is living his dream! There is no project that he hasn't seen already and has rebuilt and built many homes in Central NY.  Our clients come back to us year after year because of how happy they are with our work.
Sal's life story begins with his parents who came to this country from Palermo, Italy.  Sal is one of four boys.  
Sal was educated in the North Syracuse School district. After 4 years of BOCES Construction classes, he knew his life's work would be in carpentry. He started out working for Tom Albanese Construction but also took part-time jobs at Williams Grocery Store and delivered pizza for his family's business, Alessandro's on Oak Street.  Sal has always liked to stay busy!
Sal met the love of his life, Terry in high school and they have been married over 30 years with three beautiful children, Sal Jr, Elisabeth and Bri.
Sal went to work for Terry's dad and expanded his abilities in the construction field. He has done everything from pouring foundations and building homes and buildings from the ground up to specialty work including building a log cabin home.   Sal has been operating his own business for 11 years and has had a hand in many buildings all over Central New York.
Check out our latest presentation here.
Making Your Dreams Come True
We listen to our customers
We are easy to work with and accommodating to your needs
We work within your budget and on schedule
Developing functional and creative solutions that add value to your home
Being professional, attentive with a focus on safety
Paying attention to the big picture and the small details
Being honest and setting realistic expectations
Charging fair prices for what we provide
Providing top quality work and craftsmanship